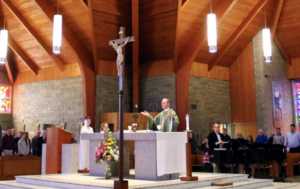 One of the most beautiful aspects of the Catholic Church is the sacrament of Reconciliation. Instituted by Jesus Christ, Reconciliation allows us to obtain forgiveness for our sins and reconcile with God. All three Pastoral Plan committees (Faith Sharing, Liturgy Experience and Parishioner Engagement) have been called to increase attendance at confession and, in doing so, help parishioners receive peace through the priest's audible assurance of forgiveness.
Catholics are encouraged to go to confession all year but especially during Lent, the season of repentance and penance. St. Katharine's is offering Reconciliation often throughout the six weeks. In addition to the dates and times on the 
Lenten Calendar
, confession is always available at the Men's and Women's Evenings of Reflection.